UC Davis Medical Center now offers robotic-assisted procedures to treat cardiovascular disease and noncardiac thoracic disease. This state-of-the-art program includes an experienced and highly trained team of surgeons, nurses and support staff who specialize in the use of a computer-controlled surgical system that can provide all the benefits of conventional open-heart and other cardiothoracic surgery with the recovery advantages of a minimally invasive technique. For cardiac cases, the team also works closely with colleagues in the Division of Cardiovascular Medicine to provide the most appropriate and best combination of treatments for each patient.  Thoracic surgery cases are coordinated in a multidisciplinary approach through the UC Davis Comprehensive Cancer Center involving practitioners from Medical and Radiation Oncology as well as Pulmonary Medicine.
Robotic-assisted surgery is a leading-edge procedure. It is minimally invasive — meaning large surgical incisions are not required — and the precision of the technology can be an ideal option for delicate and complex surgeries around the heart and in the chest. Currently, UC Davis is the only medical center in California offering robotic-assisted, multi-vessel "hybrid" coronary bypass/revascularization procedures for patients suffering from coronary artery disease.
Benefits to patients
Robotic-assisted surgery enables surgeons to perform a more precise operation less invasively than conventional cardiothoracic surgery.  "Open" heart surgery typically requires the chest to be opened at the sternum bone and the use of a heart-lung machine and traditional thoracic surgery involves cutting muscles in the back and spreading ribs apart to access the thoracic organs. The robotic-assisted option offers several potential benefits, including:
Significantly less pain 
Less blood loss
Less risk of infection
Less scarring
Shorter hospital stay
Quicker recovery time and return to normal activities
Clinical outcomes comparable to conventional "open" heart surgery
Clinical and oncologic outcomes comparable to VATS (video-assisted thoracic surgery)
As with any surgical procedure, these benefits cannot be guaranteed. Successful outcomes always depend on a variety of factors.
Robotic-assisted cardiothoracic procedures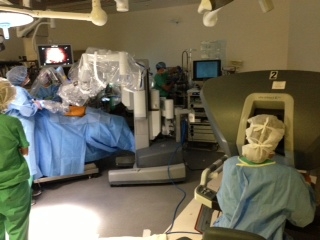 Coronary artery bypass (coronary revascularization) — This procedure is performed without the need for a heart-lung machine. It is done minimally invasively through small incisions made between the ribs.  It avoids the physical trauma of cutting through the breast bone and spreading the ribs to access the heart area, which carries associated risks and complications. UC Davis surgeons are able to repair multiple diseased vessels using the robotic-assisted procedure.
Cardiothoracic surgeons also perform arrhythmia, pericardial, and lead placement robotic-assisted procedures.
Pulmonary resection — This procedure is performed with multiple small incisions between the ribs and does not involve spreading any ribs apart.  This approach minimizes physical pain to the patient while providing access to the lung and its blood supply with excellent optics provided by the robotic video camera. UC Davis surgeons are able to remove small portions of lung tissue, entire lungs and associated lymph nodes using the robotic-assisted procedure. 
Cardiothoracic surgeons also perform mediastinal tumor resections,  esophageal resection and repair and diaphragmatic procedures.
Robotic-assisted surgery
During the operative procedure the surgeon sits at a controlling console near the patient. An assisting surgeon is at the bedside next to the patient. Through a video camera, the operating surgeon watches the operative field and controls several robotic arms from the console, which replicate the surgeon's hand movements. Three computers at the console track those movements 1,000 times a second, digitizing the information and enabling unprecedented surgical precision. Computer-assisted robotic surgery allows procedures to be performed that previously were beyond the capabilities of human manual dexterity.
A benefit to the patient from robotic-assisted surgery is a decreased length of recovery time. Instead of months of recovery from the healing of the sternum, recuperation times can be reduced to a matter of weeks. The operation is performed thoracoscopically, meaning it is less invasive because it requires only small, keyhole incisions between the ribs rather than a chest-length opening for surgeons to operate around the heart. Patients can often return to normal activity in two to three weeks instead of six to eight weeks common to standard open surgery.