UC Davis Cleft and Craniofacial team helps improve Lily Jones' life
(SACRAMENTO) When 8-year-old Reno resident Lily Jones first came to UC Davis Health, she could only open her jaw four millimeters. It affected her speech, her breathing and eating.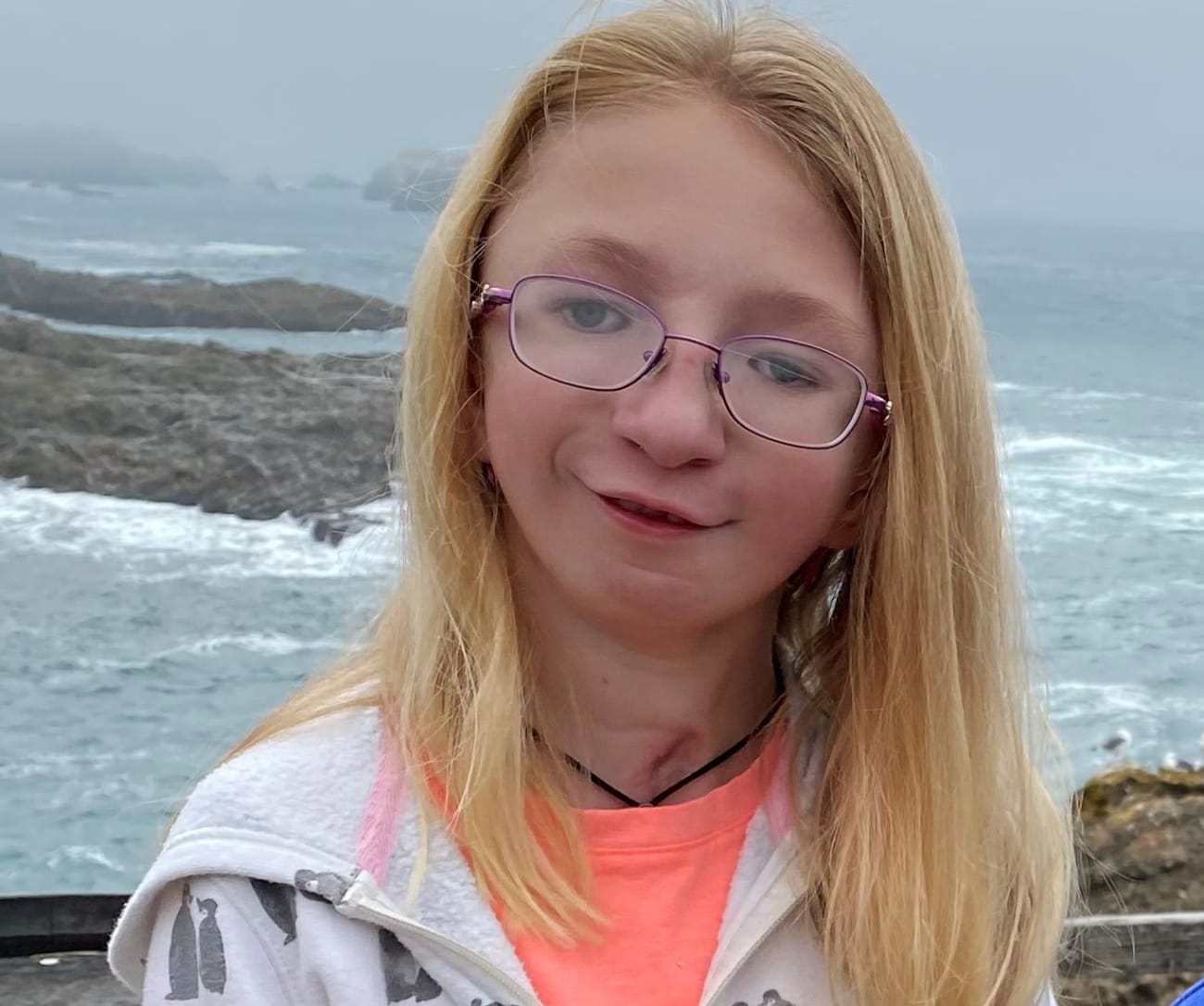 Lily couldn't open her mouth more than four millimeters when she first arrived at UC Davis Health.
Her first UC Davis visit was in January of 2017. She had already endured more than 15 surgeries and would require more. 
Jones was born with Nager syndrome. It's a rare condition with only about 100 cases being reported in the medical literature. Jones faced craniofacial challenges, including the absence of ear canals and extremely short forearms. The UC Davis Cleft and Craniofacial team partnered with her and her parents, Nick and Elysia Jones, to help improve her life. 
"Lily and her family have challenged us as a team to be innovative when treating airway, speech and feeding, all the while, striving for a balance and optimal quality of life," said Craig Senders, director of the program and Jones' surgeon. 
Surgeries, hardware pave way for childhood rituals
Within a year, UC Davis experts expanded Jones' jaw to 15 millimeters. 
"It doesn't sound like a lot, but for her it's huge," said Elysia Jones. "She was able to enjoy her first peanut M&M." 
Jones also could stick out her tongue at her brother for the first time, which delighted her.  
Over the past four years, Jones underwent six more surgeries and continued to make strides. One of those required her team to use distraction hardware, a device with screws that attaches to both sides of the jawbone. The screws are gradually turned to create a longer jawbone and more space for her tongue. 
A bittersweet checkup
This is Lily Jones when she arrived at UC Davis in 2017.
Just shy of 12-years-old, Jones loves to laugh, sing and dance. She still enjoys her peanut M&Ms, but she's added cheeseburgers and tacos to her repertoire as well. A feat credited to the fact that at her most recent and final appointment in June, she opened her mouth 20 millimeters. 
The moment was bittersweet as the Jones family prepares to move to Dallas. 
"Lily, Elysia, and I cried at our appointment with Dr. Senders when we had to say goodbye," Nick Jones said. "We will miss the whole craniofacial team, especially Dr. Senders and the primary nurses we had. We were able to create great friendships and relationships with them." 
Her parents credit Lily's great attitude for her perseverance through life's challenges, and the UC Davis team for expanding not only her jaw but her opportunities in the future. 
"All the way from check-in and pre-op to the Pediatric Intensive Care Unit, everyone was always so accommodating," Nick Jones explained. "The care we received at UC Davis has been amazing."