UC Davis Health can now run hundreds of combined tests daily to complement its previously announced rapid test
(SACRAMENTO) — UC Davis Health has expanded its ability to test for both COVID-19 and flu viruses at the same time, rolling out a high-volume combined test that can run hundreds of tests daily – with "gold standard" results returned often in 24 hours or less.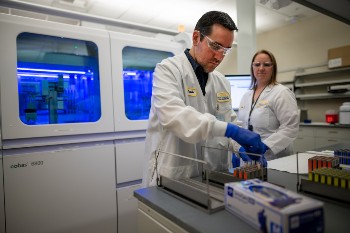 Lab scientists Marcelo Prado and Katie Zegarski prepare the cutting-edge lab robot to run hundreds of combined COVID-19/flu tests daily.
This new test uses a state-of-the-art laboratory "robot" and follows the health system's recent introduction of a groundbreaking portable combined COVID-19 and flu assay that can test patients at their bedsides and return results in 20 minutes.
UC Davis Health was among the first in the nation to use the highly accurate portable rapid test, which is aimed toward the emergency department or clinics where doctors and other providers need to make fast treatment decisions. This test has a limited capacity.
Now, the health system is among a select group of hospitals and laboratories to run a similar test but in much higher volume. The new laboratory combined test for COVID-19 and both A and B flu viruses can be offered to hundreds of patients in a day. It's intended for patients and others whose need is not an emergency.
"This is our next evolution in testing during the pandemic as we get deeper into influenza season," said Nam Tran, professor of laboratory medicine and a member of the California COVID-19 Testing Task Force. "We have been working nonstop since March to develop faster and highly accurate tests to detect COVID-19. The addition of influenza A/B to our menu is part of the natural progression of our testing technology."
Both combined tests use equipment made by Roche Diagnostics and are highly sensitive, highly specific PCR tests. "These methods remain the accepted gold standard for testing," Tran said.
UC Davis Health has been a national leader in testing for the SARS-CoV-2 virus. In March, UC Davis Health lab scientists employed Roche's large lab robot for top-grade COVID-19 tests, running hundreds of samples a day, complementing other testing platforms and delivering results that are close to 100% accurate. Now, that robot is also running the newest combined COVID/flu test.
The use of the large lab technology early in the pandemic was critical for improving care because testing throughout the region and the state was strained.
"The lab tests we have been using since March are as good as it gets," said Lydia Pleotis Howell, medical director of the UC Davis Health clinical laboratories and chair of the department of pathology and laboratory medicine. "They are run in a fully-enclosed robot and operated by highly trained clinical laboratory scientists, so there is little chance of cross-contamination or human error."
UC Davis Health rolled out the portable 20-minute combined test in November, when the threat of flu was added to the threat of COVID-19. The newest combined tests on the large Roche lab robot greatly increase the ability to offer combined testing for symptomatic patients as the coronavirus surge and flu season grow.
However, the combined test is not intended for asymptomatic screening, Tran said.
"If someone has the flu, they very likely show the symptoms, which are similar to COVID-19. That's why we should test for both," Tran said. "But someone who is asymptomatic could have COVID-19 and still be contagious. A patient who has been exposed to COVID-19 but is asymptomatic would get the SARS-CoV-2 test only."
As the number of COVID-19 cases continue to surge, the UC Davis Health Clinical Laboratory continues to monitor testing volume. The new capacity for the combined tests may not be enough as numbers of cases skyrocket. UC Davis Health, like many other institutions, continues to work with limited supplies of reagents (the chemicals that trigger reactions in tests) which limits the number of tests it can run. As the supply increases, the testing will continue to expand.
"Our concern is that the demand for high quality testing is going to grow exponentially as we face this enormous surge in cases of COVID-19 and other influenza like illnesses," Tran said. "That surge is being worsened by the infections from Thanksgiving and other holiday gatherings. We will do everything we can to address the need, while ensuring we offer the highest quality testing for our patients, employees and community partners."